Here I would like to renew my Journal… New Introduction post… and many more… START!
Ok… Hello there to the one who reading this… I appreciates it when you read this. Urm, what should I say… Oh yeah… I will get to the point… This Journal consist of my writings that I had writes so far. Not much of it though since I'm a newbie. Started writing last year (2013) at/before Yamada Ryosuke 20th birthday.

90% of this Journal will be only YutoYama/YamaJima pairs that I writes only since I'm a die-hard-fans of this two pair. Meanwhile, 10% is for other pairing like YabuNoo, TaDaiki, YamaChii, TakaNoo, OkaJima, HikaBu, HikaTo, TakaChii, and ChiiTaro. They'll only be few of this pairing only.

I really really really appreciates to everyone's that had reading my cranky/crappy FanFictions.. I hope you can bare with me since there are tons of grammatical errors here and there.. and take note, English Language is not my mother language.

And here..

Since I always F-LOCKED my FanFiction, from now on, I'll not F-LOCKED it anymore so that you all can read my writings so far.. and about Adding Friends, it's will be the same as always.. it's not hard just to introduce yourself below right? And, feel free to talks with me since I like talking..

FanFic Index
Let's getting well in this JUMP WORLD!

I'm not that choosy person but sometimes my mood will changes and that's how I become a choosy person.. sorry m(_ _)m .. But, worry not.. I'll changes it so that I'll not become a choosy person.. Bleah, if it's true..Girls, boys, older, younger or whatever, I don't mind to be friends with you.. No matter whose your Ichiban, Otp or what group you like, we're still have a same similarity.. and you all knows what is it..

WITH LOVING OUR JUMP!

Oh, and before I forget, your comment motivated me.. it's give me the will and spirits to keep on continued writings.. so, I hope you all can give me comment and with that I'll smiles like idiot all day.. XD

So far, I think that's all.. Just a short Introduction post of mine.. Hope we can be a real friends who LOVES JUMP in the future. Waiting for that time to come..

Thank You..

With Love Yuuki Nanaka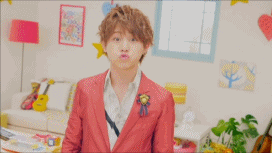 気持ち:
cheerful
ミュージック: Hey! Say! JUMP - Hajimari No Melody